10/28/18
Friday night's double header length Los Angeles Dodgers win meant a Game 5 and another #SportsEquinox!
SPORTFORIA™ 2018 sure is finishing up with a bang!
However, tonight will be the last time you'll be able to have 1 ticket with 1 game from all 4 major sports in a 4-teamer on the same day until 2019!
After last year's #MinnesotaMiracle why not hop on the New Orleans Saints in the NFL (They're also the last team for this week's Picking Duck Sports contest) and the Las Vegas Golden Knights seemed like a no-brainer for the NHL especially if you're talking about a holiday designed for Las Vegas, Nevada. The Boston Red Sox have been the best team in the MLB all season and the L.A. Clippers are hosting a team on a long road trip in the NBA.
It's not only a lot of fun but pays 16-1!
If the BoSox do close it out tonight, hopefully you've really enjoyed the 2018 version of SPORTFORIA™, we'll do it all again next year!
Always Be Cashing
10/26/18
You can hear the last show of SPORTFORIA™ 2018 here:
SportsBettingWeeklyLive.com
If the Los Angeles Dodgers can get back in this series they're gonna need to win at home and only 1 W will get us a MLB World Series Game 5 and another #SportsEquinox on Sunday.
Otherwise, having all 4 sports will be done until next year.
One group that won't be done are #ThePublic and they're coming off one of their best weeks ever Justin Gettys was a perfect 4-0 last week. Bobby Kinslow gave out 2 ML winners while Charles from San Diego, California and Jeremy Schlosser were BOTH 2-0. We can't forget Paolo Venetti Vratis who has hit his last 7 soccer plays.
So whether you need some #opinions for your Picking Duck Sports contest entries or you're just heading down to Caliente Casino Race & Sports Books that whole "Callers Wanted Winners Preferred" thing seems to be working.
SportsBettingWeeklyLive.com
10/25/18
Once this year's MLB World Series Champions is crowned SPORTFORIA™2018 will be over.
There's a full slate of NBA games this weekend as well as 11 NHL games on Saturday alone!
The travel day for the Boston Red Sox and Los Angeles Dodgers means even though there's NFL thursday night football today there's only one more chance of having a #SportsEquinox and it would be Sunday for Game 5.
The question is, after racking up a trio of hits in Game 2, will the Southern California sunshine warm up The Blue Crew's bats. You guys holding tickets on a Red Sox sweep are half way there!
Friday & Saturday there will be NCAA Football to fill the void and if you are lucky enough to spend some time in Caliente Casino Race & Sports Booksthere will be all 4 sports on your TVs. The only difference is those football games won't involve guys paying taxes on their money!
Enjoy SPORTFORIA™ 2018 while it lasts and if you do make it down to Caliente Race & Sports Book give the rolled tacos a try, there's 6 of 'em so be ready to share.
Always Be Cashing
10/23/18

It really was a surreal feeling!
No, it wasn't the
Tequila Herradura
although spending the entire Saturday watching
NCAA Football
at
Caliente Casino Race & Sports Books
does involve downing quite a few Margaritas.
This sensation was more difficult to describe. Like if you combined the last day of school along with the 1st day of a vacation from work and for good measures threw in how you felt when you met that certain someone for the very first time. It really was that great of a feeling.
Euphoric may be too strong but it's pretty darn close!
This wasn't a
#SportsEquinox
since College Football was a surrogate 4th sport, but they were all there. To this point it was the best day of SPORTFORIA™ 2018 so far.
One TV after another had another sport. The big screen had Game 5 of the
Los Angeles Dodgers
Milwaukee Brewers
series next to that was an
NHL
game, below that was an
NBA
match up and
LSU Football
was kicking ass on the 4th screen.
Plus, as you know, there is absolutely nothing like being in a sports book when something special happens in a big game and when
Yasiel Puig
nailed that pitch the whole table shook!
Tonight's opening game of the
World Series 2018
means we have one more chance to have at least 1 game of every sport on the same day and (unless there's a sweep) it'll be Sunday with Game 5 but for right now the schedule still comes with the * if Necessary
Enjoy the next week or so as much as you can since it'll be another year before it happens again.
Welcome to 
SPORTFORIA™ 2018 Day 5!
If you already have all the
#winners
you need God Bless!
SportsBettingWeeklyLive.com
The last 2 weeks these guys from
#ThePublic
have been on a tear with
Justin Gettys
and
Billy Elvis
looking like they stole that
BacktotheFuture.com
sports almanac back from
Biff Tannen's Pleasure Paradise
.
There's plenty to bet on down in
Caliente Race & Sports Book
during SPORTFORIA™ 2018 and they've asked us for some
#opinions
so we read some SixBetsAGame.com reports and put them here:
https://sportsbettingweekly.com/blog/weekly-bankroll/
Did you listen to
Paolo Venetti Vratis
and
Wesley Boston
the last few shows because if you did you had to win money. The guy from
Virginia
Tom Vasko
did okay AGAIN and
Tony Llanos
leads everyone in the
CBS Sports
NFL
ATS Pool. We already know
John Dillon
,
Thomas McCartney
and
Chuck Lising
from
Picking Duck Sports
know what they're doing. While
Joseph Lucibello
offers a gold mine of data so you know exactly what his Why is.
Honestly, if you don't win money betting football this weekend, and you didn't listen to the show before you got your plays in, gonna be hard to give you any sympathy:
SportsBettingWeeklyLive.com
Lot of fun last night trying to keep up with all 4 games with all 4 sports during yesterday's #SportsEquinox but the 4-Teamer went down early as David Price 24 pitched a masterpiece.
Day 4 of SPORTFORIA™ 2018 could see the NL side filled tonight but until then there are Picking Duck Sports plays that require $12 in chips as well as the CBS Sports pool that means going through every NFLGame.
On a little 8-2-1 run with PickingDuck.com not so much with picking all the games ATS.
Third straight week for Danny Ely being #1 going 9-6 again although Tony Llanos maintains a solid 4 game lead over Wesley Boston and Chuck Lising.
Getting to spend Saturday at Caliente Race & Sports Book for the 1st time this season.
Normally it's hit run to get all the plays in and looking forward to hanging around for some NCAA Football H2 action this weekend. So, if you're anywhere near a sports book right around the 10:30am PT mark tomorrow morning, don't be afraid to drop a play on the H2 Under in the Cin/Temp Game.
Compliments of Captain Insano and SixBetsAGame.com!
Always Be Cashing
10/18/18
All 4 leagues on 1 day!
A sports equinox is something special.
Unless the Houston Astros figure out how to slow down those Boston Red Sox
our only other shot this year at getting all the sports on one day will be Game 5 of the World Series.

So here we go:
Broncos -1 (-110)
OV 6.5 Pitt/Tor (-135)
OV 8 Bos/Hou (-110)
OV 223.5 LA/Por (-110)
1 Day – 4 Sports – 4 Teams – Parlay +1111
Happy SPORTFORIA™
10/17/18
Day 2 of SPORTFORIA™ 2018 includes a couple MLB Playoff games a few NHL contests and a full slate of 11 NBA games.
Of course tomorrow is the focus with a sports equinox of all 4 major leagues having at least 1 game on the same day and right around 8:30 ET (5:30 here in San Diego) the Red Sox & Astros will be playing Game 5 of the ALCS while the Broncos & Cardinals are on TNF while there will be 3 NBA games and a host of NHL to choose from.
Definitely putting together a 4 team parlay with 1 play from all 4 sports.
Anybody else gonna try it? Let us know who you like.
10/16/18
Talk about being a special time of year!
It's the only 12+ days when all 4 of our major leagues are in play at the same time.
NBA is tipping off, NHL is underway, NFL in Week 7 and the MLB playoffs.
Plus, with the ALCS tied at 1-1 we're GUARANTEED a Game 5 on Thursday and that means this year we'll have (what FiveThirtyEight calls) a #SportsEquinox with all 4 playing at least one game on the same day.
Thursday may be the only time it happens this year!
Now that's something Special!
10/15/18
How special is it when you hit a 22-1 wager?
In all the times since you've been gambling how many 120-1 long shots have you cashed?
SPORTFORIA™ starts tomorrow when the NBA season tips off.
That means for at least 12 days all 4 major leagues play at the same time.
It's the only time of year that you can cash a 4-team parlay with all 4 sports on 1 ticket.
Plus, with the ALCS tied at 1-1, we know that we'll be having at least 1 sports equinox this year! 
                                       Most years the chance of having one of those is 120-1!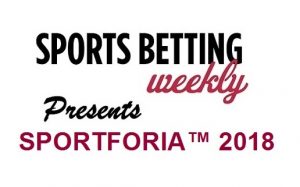 Neil Payne at FiveThirtyEight.com gives Rueben Fischer-Baum credit for the name.
Thursday 10/18/18 all 4 sports play at least 1 game on the same day.
Now it could happen again with the ALCS Game 7 and for World Series Game 5 too.
However, when you check out the schedule for both those games you'll see the accompanying asterisk.
*If Necessary
So, if Thursday is the only time it happens, it's a once in a year occasion.
Pretty sure most of the other once in a year occasions are holidays.
10/4/18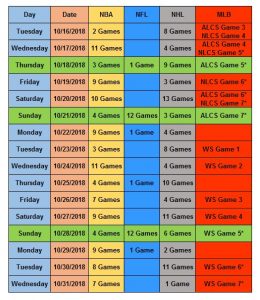 You better be ready because it doesn't last long! Now that the NHL has dropped the puck, the NBA is next on 10/16.
Their tip off will be the official start of SPORTFORIA™ 2018.
It's the only time of year when all 4 of our professional leagues are in play at the same time. The first time a caller reminded of us about this was when the show was on ESPN here in San Diego, California with John Dillon, Thomas McCartney, Justin Gettys and Jeremy Schlosser. Immediately we thought "Now that should be a holiday" so that's exactly what we're doing. Just need a little help from the United States Patent and Trademark Office.
As you can see by this year's schedule, SPORTFORIA™ 2018 will last between 12-16 days depending on how many games it takes for the winning team to clinch this year's MLB World Series Championship.
There are 3 times this go around where there's a possibility of having, what FiveThirtyEight's Neil Paine credits the Washington Post's Reuben Fischer-Baum with calling a #SportsEquinox. Since the NFL is involved they always fall on a Thursday, Sunday or Monday.
These are the only days every year when you can place a 4-Team parlay that includes one pick from every single sport. Of course, like most things in life nothing is for certain. All 3 of the days include the infamous asterisk.
A.K.A. *If necessary     So only time will tell
8/13/18
SPORTFORIA™ 2018 is in the calendar as the final of our four major sports, the NBA, released their schedule for the 2018-19 season.
What do we know (or at least think we do):
Tuesday 10/16 is the 1st day that all 4 leagues will be in play at the same time
Thursday 10/18 is the 1st possible "Sports Equinox" as both the NBA & NHL have regular schedules and the NFL has TNF but the MLB game scheduled for that day would be the 5th Game of this year's ALCS best of 7 and comes with the obligatory *If necessary
So, only a sweep (is it too early to call the BoSox in 4) will keep us from what FiveThirtyEight.com's Neil Paine called "The Greatest Sports Day Of The Year"
Sunday 10/21 is the scheduled date for the final game if that AL series went the full 7 and would be the 2nd opportunity for SPORTFORIA™ 2018 to have all four leagues on the same parlay ticket for the same day
This year's World Series starts mid-week (on Tuesday 10/23) with 5 of the 7 scheduled games played on weekdays and none on a Thursday. (That rules out any TNF magic nights) It's Game 5 of the 2018 MLB season (this year FOX is the host) on Sunday 10/28 that would be the 3rd chance for another shot at history.
They do say, "Third time's a charm"?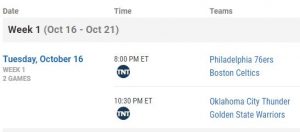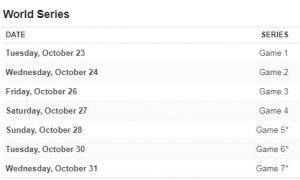 7/8/18
Still another month until the NBA schedule comes out.
Although the World Cup has been interesting, the time zone issue means the games are all in the morning.
It's just over a week before the MLB All-Star break.
Squeak reminded us that this is the only time of the year when NONE of the 4 major leagues are in play.
Guess that makes it the anti-SPORTFORIA™!
Of course, once that gets here, we're just that much closer to all when all 4 major sports will be playing.
You just have to hang in there.

6/19/18
The NHL schedule comes out this week.
Every June we learn when hockey starts up again and then we're only waiting on hoops!
It's August when the NBA announces their lineup for the new season.
So, it'll be at least a couple more months before we know the official dates for SPORTFORIA™ 2018.
Until then it'll be more chats with Johnny D. about how tough July is on a football fan.
Hopefully by the holiday this year, we'll have the Government's permission to remove the ™ and add the ®.
Time flies so it'll be here before we can imagine.
Thank GOD!
5/22/18
Probably should listen to all the old shows to find out who gets credit for prompting the idea.
It was one of our frequent callers.
He mentioned it was the only time of year when all 4 major sport leagues have games at the same time.
Immediately I said, "That should be a holiday!"
It took a couple years of sitting on the To Do List and a little help from an Attorney (or 2)
And now we've officially applied for registration with the USPTO!
Here's what it looked like last year: