You've heard me say that betting the ponies is one of the few ways you can walk into the Circa with $12 and walk out with a grand. Blackhawk Wes gave me Disarm in the Derby not once, but twice, and he ran fourth, part of that $15,643.65 for a buck superfecta payout. We had given out a six-horse box with Billy Elvis on his show Saturday but didn't have the 10 included. Of course, winning $491 on a .50 bet (or $60 if you want to focus on the world of boxing your horses) wasn't bad but 15 large is 15 large. Plus, we found out Johnny D hit it too! Here's the link to Sportsrap and if you join us on Saturday you'll get a couple more ponies off of our watch list.
In the years when I didn't hit the Derby, watching the replay once was good enough. This year was different because of that 85-1 future bet that I had on Verifying. It was a foggy feeling watching him lead all the others until Tommy and I saw the times and there was no way these horses were going wire to wire in 22.3 and 45.7. Thanks again to PropSwap who helped me get $75 back from a $40 future wager on a horse that lost! Think about that for a second.
This was the second time in recent memory that I had all three of the horses that were well ahead of the rest of the ponies. There is something very special about hitting the trifecta on the "Run for the Roses." The OV/Un on how many times I'll end up watching the replay is 5.5. (I'm at 2)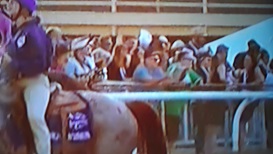 Here's a video from Saturday at Del Mar. Check out this link and you'll get a feeling of what a billion-dollar failure looks like. I'm being purely selfish at this point, but it's hard to not be pissed that California screwed this up so badly. Going forward will be talking to some of the Golden State's representatives and seeing how much money we're losing every day that sports betting remains a crime here in San Diego.
Sticking some American dollars in a machine that prints out your wager on a piece of paper isn't rocket science. Don't get me wrong, the folks at Caliente down in Tijuana always treat us great! Right now, a peso is worth a nickel, so food and drink aren't the issue. Most times, crossing an international border isn't a 13-minute excursion. Thank you, thank you, thank you for making Wana gummies legal but the fact that I can get a 1/8 of an ounce of Purple Rose delivered to my front door but I need a passport to bet against the Chargers is insane and that's something Speedy and I are always laughing about.
We all have a bad beat story that tops them all. When you play the ponies it's even a little more painful when you lose like that. Your horse is winning the whole way and at the last minute, there's another horse that catches up. First, you're seeing it in live action where all that matters is what nose is first across the line. It all happens in a split second so you ask the folks around you and get multiple answers. It was the 5 or I thought the 2 got up. They might say the inside horse looked like he got their first. Either way, you have to wait it out.
Finally, after an excruciating few minutes, you see the other number in the win spot on the board. This isn't a last-minute field goal that only impacts the spread. It's a slow-motion, expletive-laced, bad beat! The problem with those exotic wagers that horse racing offers are those previously mentioned returns. It's a case of could've, would've, and should've.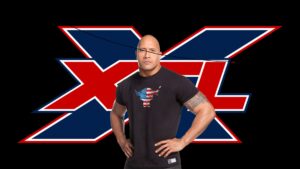 It really doesn't matter what letters they put in front of the FL. Data is data and American football is American football. So, whether you're talking about the NFL, CFL, XFL, or USFL, our EasySportsData program works for it. Sure, some of the rules are different. In the first half of this spring's XFL season, we got to watch professional coaches totally screw up their unique extra-point format.
Saturday's in Canada will be back soon and there's nothing crazier than watching your first CFL game. The size of the field, number of players, and guys running all over the place are hard to grasp at first. It's pretty good football and more importantly, it's very cashing tickets friendly. You know that if you've paid attention for the last two years. Still, those teams north of the border are not NFL teams. Pretty sure you won't be seeing Dan and Belly Up Sports putting out a CFL fantasy show anytime soon.
Watching the first few weeks of the USFL had us questioning if it's closer to CFL quality football or something you'd see on a Tuesday night game during MAction. Now that we have four weeks in the books the data will show what these teams are made of. We normally find a few to bet on, a couple to bet against, and the rest to avoid. There are only a few games each week so the time invested pales in comparison to a Saturday of college football or any Sunday during the NFL regular season.
The hardest part is finding the statistics for these other leagues. Once you have those to go along with the data, it makes handicapping a lot easier. Having every line, along with every result, from every part of every game, is a powerful tool. Once you find where all the team stats along with both offensive and defensive numbers and you have them together, it makes it a lot easier to cash tickets.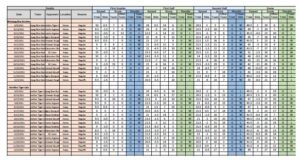 Saturday is the XFL Championship game in San Antonio. I reached out to our long-time contributor Jonathan from Vegas Insider to see if he's going to make an appearance. Most of the time watching these spring leagues, the stands look like it's one of those early December bowl games from a place that doesn't have palm trees.
You might not even know what the eight teams that make up the XFL are. One of them, the DC Defenders, has been good all year. They're 10-1 (8-3 ATS) and have had nine straight games go over the total. The title game opponent is the 5-6 (4-7 ATS) Arlington Renegades. This is a team that went from Week 2 to Week 8 without scoring more than 18 points in a game. When they put up 23 in the first half of the semi against Houston it was the first time that they scored more than 12 points in the first half since February 26th.
The Defenders are scoring 14+ for the first half in their last 4 when they're listed as the visitors and put up that same number for the second half in 9 of their 11 so far this year. The line is 48 and DC is laying -6.5. The Defenders have put up at least 28 in 9 straight for the game and should win by more than a TD. If Arlington has the lead at the break, we'll look to get right back on DC again for H2 since those Renegades have averaged only 6.4 points in the second half over their last 5 games. The over will also be in play after the intermission since DC has been scoring so well after halftime.
One of our betting strategies on WWSRN is the Money Line Mania play. That's taking ML on DC to win a unit and 75% of that wager laying the points. They win and you're okay. They cover and you're golden. They lose and you'll remember that it's called gambling for a reason. Wes always tells us that if you take the money line on the chalk then you really should be taking the points. In this case, we're leaning towards thinking that a 10-1 team should beat a 5-6 team.
There's some USFL action planned for this weekend. All our matchup data (the breakdown of home vs away) is relative since all the games are played at four different locations. There are four games every weekend and the first one on Saturday has the lowest total on the board. Neither of these two score and playing the Under in H2 will be on the list. The next game has two teams that allow a combined 634 ypg and both score DD in H2. Sunday the New Jersey Generals are on a 4 straight unders run to start the season. They've allowed a total of 19 points in H2 and are averaging 168 rypg. You run for that many yards every game and you'll probably win more than you lose. Lastly, and maybe leastly too, is the final game featuring those 4-0 ATS New Orleans Breakers. In Week 3, they put up 45 on a Birmingham Stallions team that, in Week 2 had beaten their opponents in this one by a score of 42-3. That's a fairly significant amount of difference in points between common opponents.
Thanks for letting me get this stuff out of my brain and Always Be Cashing!