Week 2 just reinforced how important live betting is!
Our H1 plays went 3-4 and 4-3 for the Game.  So, for the bankroll we lost $78
BUT Every single loser H1 covered for H2 and 2 of them came back to cover for the game.
That 4-0 in H2 plays turned a losing day on paper into a winning Sunday in the old JoinYouWager.com account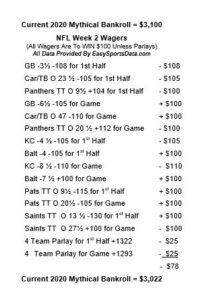 That means for the season after 2 weeks we're up $522. No complaining here
The SportsBettingLesson.com
Tip of the Week: Use Live Action Parlays – It's a MUST – Assuming of course that you have confidence in your handicapping
If you liked a team before the game (like GB week 2) Why wouldn't you still like them if they get behind early.
That point spread for a game is based on what's happened in the past and once there's a new point spread there's new opportunities and you have to take advantage of them.