Week 3 went well!
Betting on the NFL is always tricky and, if you're a decent handicapper, you'll have some great weeks.
All you can do is enjoy it, take the money and get ready for the next week of games.
Sure going 12-2 is awesome but going 2-12 next week is always a possibility.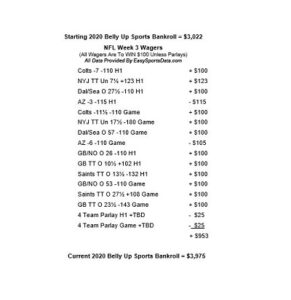 After 3 weeks we're up $1,475 and that sure beats the old stick in the eye!
Of course, the only loser we had cost us BOTH parlays.
That's why we always include small unit parlays just in case.
When we're tearing up those tickets they don't hurt as much.