Mistakes are MUCH easier to see in hindsight!
You're gonna make 'em but you can't make 'em again.
More losers than winners in Week 4 but only 1 mistake.
The rest were just gambling. (Including losing not 1 BUT 2 bets with the same 1/2 point)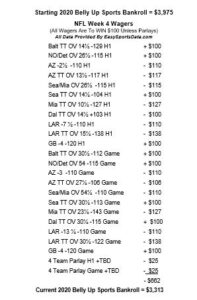 After 4 weeks we're still up $813 and a ROI+ is always good.
The best part of Week 5 is seeing both Home and Away records for THIS YEAR!
Betting based on what happened last year doesn't offer much confidence.