Were you planning on betting the Kentucky Derby?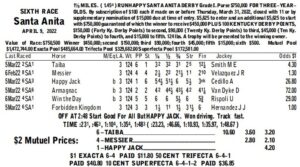 Let's plan like you are and then we'll cover…those other people.
The 1st Saturday in May is special for many reasons. One crucial part is the quality of the card.
You just don't see that many high purse races, with full cards, many times during the horse racing calendar. This year's Santa Anita Derby, for example, the most important West Coast prep for the Derby, had six total runners! It's this characteristic that makes it more profitable betting on the Kentucky Derby.
Plus, this 148th running is even better!
Sports betting is exploding, (everywhere except CA but that's another article all together) and they all want your action. Better than that, they're willing to pay for it! You're getting Free Money from most of the best horse racing sites to bet on in the industry!
You name a horse racing site, and they have a deal: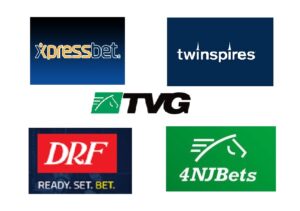 Xpressbet – $100 Sign Up Bonus
TwinSpires – Risk Free Win Bet (Up to $200)
DRF – $250 Match & $10 Free Bet
TVG (or 4NJBets for, I guess, if you're in Jersey) Also Has A $200 Risk Free Win Bet Deal
So, why should that quality of the ponies and some FREE Money combination be enough to slide you towards the side of joining the fun that is "The Run For The Roses"?
Let's look at a couple examples:
Messier is the best horse out West. California has a history of taking home the roses. His last race, a 2nd  in the Santa Anita Derby, saw odds of $1.30-1. That's like hitting a money line play on a 2-point underdog. Epicenter, the 3-year-old from Louisiana, has won 4 of his last 5 and went off at even money in his last victory at the Fair Grounds.

Hopefully, you can see where this is going. The track handicapper, Mike Battaglia, has set Saturday's opening lines at 8/1 for the #6, John Velasquez's horse, and 7/2 for #3, Joel Rosario's mount.
That's right, the same horses, who gave you $4 for every $2 that you bet on them last race, are both probably going to have close to a DD win price.
It'll be like that for the entire field.
Now, for anyone out there , that for any reason doesn't think he or she should take advantage of these best place to net on horses promo codes, remember it's FREE Money! Check with these books because they always have a lot of "deals" running. Find one that is having some type of best place to bet on the Kentucky Derby promotion. Normally, when you make your deposit before the race, you'll need an offer code. Most of the FREE Bet deals involve you getting a refund if your horse loses. The maximum wager they'll refund will vary too, so find the best fit for you!
You're placing a single bet on a horse to win. Favorites only win about 33% of the time. There are 20 horses in this race. Every single one of them will be at their highest odds ever. If there were ever a time to be betting on the Derby, this is the year. The two horses in the example weren't there by accident. They're my picks.
However, that's the beauty of this race.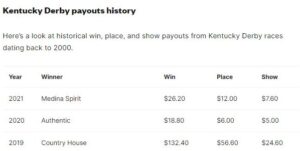 Last year's winner was 12-1, 3 years ago it was a 65-1 shot that hit the finish line first. If you woke up today saying you weren't placing a bet on the Kentucky Derby, rethink your logic. Pick a name, maybe an Aunt you like, or your favorite color, there's even a few grey horses in the field this year. Everyone loves betting on grey horses!
You win, you cash, you lose and that best place to bet the Kentucky Derby refund promotion kicks in.
There aren't many no-brainers in gambling, this is one of them.